Exhibit spaces are 10′ wide, unless otherwise specified on the map below. Spaces will include one six-foot wide draped table and two chairs. Electricity and Internet are available to all exhibit spaces, but must be ordered in advance through the Dixie Center. You can enlarge the picture below by clicking on it. Below the picture is a current list of spaces sold and available.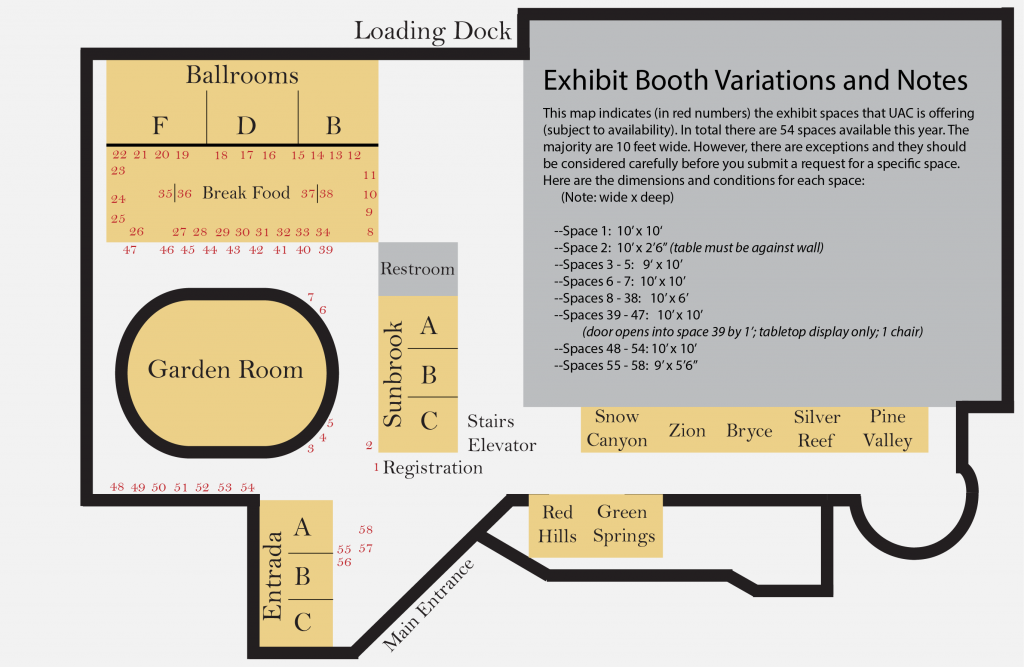 Current List of Exhibitors (current as of October 18 – We are SOLD OUT!).
Contact us if you would like to be added to a replacement list should someone drop.
1 Zions Bank – Public Finance
2 IC Group
3 Utah Interactive
4 Nationwide
5 Gilmore & Bell
6 ES&S
7 ES&S
8 GBS Benefits
9 John Deere Company
10 Wasatch Front Regional Council
11 Utah Coalition Against Sexual Assault
12 Dominion Voting
13 JRCA Architects, Inc.
14 CSC
15 World Trade Center Utah
16 Henriksen/Butler
17 Larson & Company PC, CPAs
18 Monsen Engineering, Inc.
19 FIRM
20 Utah Division of Purchasing
21 Utah Local Government's Trust
22 Utah Local Government's Trust
23 Wazi Technical Solutions
24 AT&T
25 Infor
26 County Services Support
27 Lewis Young Robertson & Burningham
28 SelectHealth
29 SelectHealth
30 Zions Bank Investments
31 VMware
32 AJoules, Inc.
33 Sunrise Engineering, Inc.
34 Computech Consulting
35 Simplifile
36 Electrical Consultants, Inc
37 The Data Center
38 Coast2Coast Discount Rx
39 Utah Counties Indemnity Pool
40 Utah Counties Indemnity Pool
41 Optum Health
42 WCF Insurance
43 Utah Retirement Systems
44 CVE Technoligies, Inc.
45 Jones & DeMille Engineering, Inc.
46 Balance Resources
47 Everyone Counts
48 Utah State University Extension
49 Utah LTAP
50 Runbeck Election Services, Inc.
51 Utah Transit Authority
52 Rural Community Consultants – RCC
53 Journal Technologies
54 Waste Management
55 Comcast
56 Carr Printing
57 Les Olson Company
58 Tyler Technologies