Exhibit spaces are 10′ wide, unless otherwise specified on the map below. Spaces will include one six-foot wide draped table and two chairs. Electricity and Internet are available to all exhibit spaces, but must be ordered in advance through the Dixie Center. You can enlarge the picture below by clicking on it. Below the picture is a current list of spaces sold and available.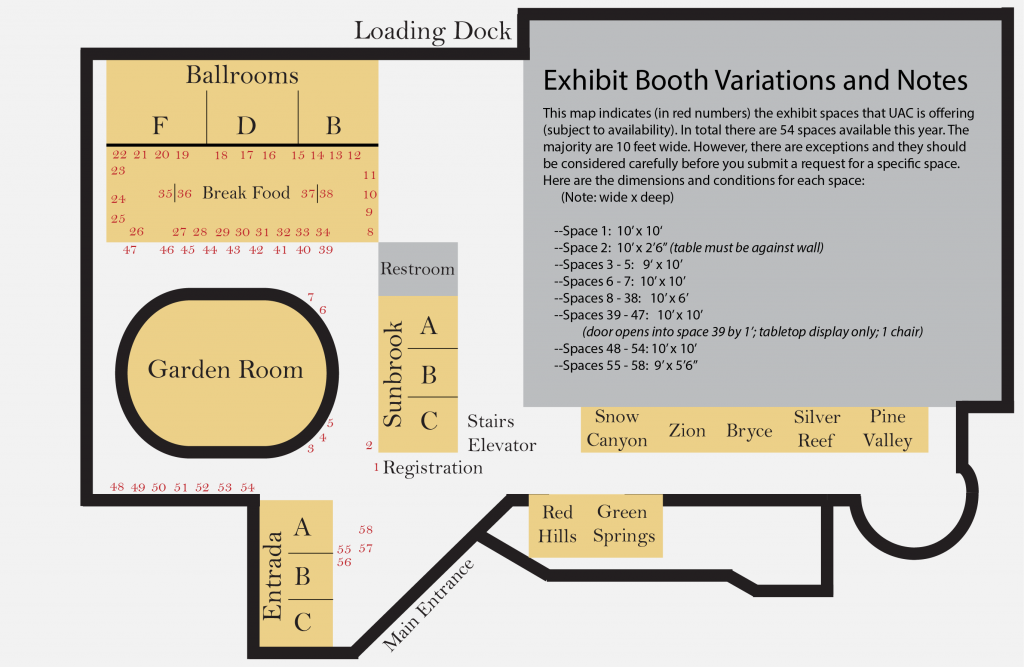 Current List of Exhibitors (As of July 23rd)
Contact us if you would like to be added to a replacement list should someone drop.
1 Zions Bank
2
3 Utah Transit Authority
4
5 PXP
6 GBS
7 FIRM
8 USDA Rural Development
9
10
11 Election Systems & Software
12
13
14
15
16 Rural Community Consultants
17 Jones & DeMille Engineering
18 Jones & DeMille Engineering
19 Electrical Consultants, Inc
20
21
22
23
24
25
26
27 CenturyLink
28
29
30
31 Zions Capital Advisors
32
33 CompuTech
34 Waste Management
35 CSC
36
37 Coast 2 Coast RX Card
38
39 Utah Counties Indemnity Pool
40 Utah Counties Indemnity Pool
41 WCF Insurance
42
43
44
45
46 Public Lands Policy Coordinating Office
47
48
49
50
51
52
53
54
55
56
57
58