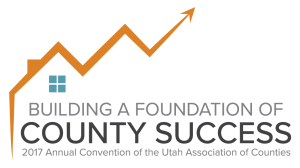 Registration for the 93rd (2017) Annual Convention of the Utah Association of Counties, November 15-17 at the Dixie Center in St. George, is now open. This year's theme is "Building a Foundation of County Success," which is a nod to the ideal that county officials are always striving to build better communities for their citizens through partnership, innovation, and hard work.
This year's Convention will follow a very similar format to prior years in that affiliate breakout sessions will begin  on Wednesday afternoon, followed by the Opening General Session Thursday morning, more affiliate breakout sessions Thursday afternoon, still more affiliate breakout sessions Friday morning and the Closing Banquet on Friday night.
As has been announced, Cara Brookins, author of Rise: How a House Built a Family, will be the keynote speaker Thursday morning. And former American Idol champion Taylor Hicks will take the stage Friday night at the Closing Banquet.
Agendas will be posted as they are made available by each affiliate and we will notify you as such – typically those will begin to be posted from the end of September to middle of October. Check with your affiliate leadership if you have questions about that in the meantime.
And, as always, we are expected a full slate of exhibitors and sponsors. You can see who those are by clicking here.
Other than that, please click here to register and get more details about the Convention. We look forward to seeing everyone there!
If you have any questions, please contact us at info@uacnet.org or call us at (801) 265-1331.